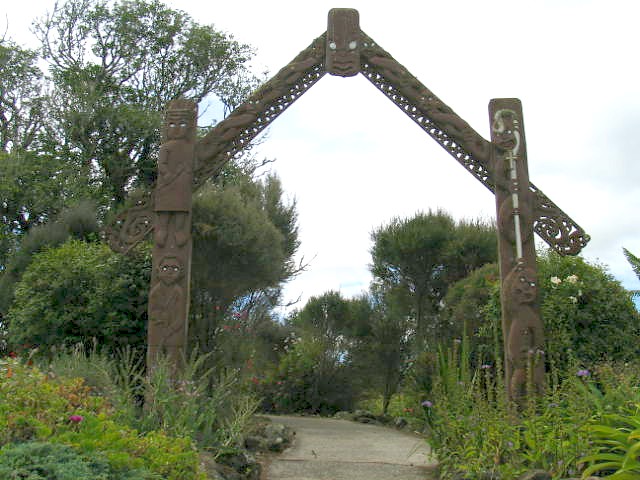 Māori carved entrance to Memorial Park.
The Pioneer Village is an excellent place to visit and is located on Recreation Road in Kaikohe. The Village covers several acres with typical historic buildings of the era, such as a General Store, Jail, Fire Station and Mill. One noteable building being New Zealand's oldest Courthouse.
6
Ngāwhā Springs, just five kilometres east of Kaikohe is the only high temperature geothermal field in New Zealand outside of the Taupo Volcanic Zone. Ngawha Springs is a health resort and offers a variety of mud pools to soothe away your worries. There are eight pools, each with a different, but natural, chemical makeup. Each of these pools are reputed to have a separate healing function.
'New Zealand's best kept secret'.
North of the town are the native forests of
Puketi
and
Omahuta
which are the largest continuous tracts of Kauri in Northland. This joint forest has become a santuary for the Kauri and Kokako, an extremely rare native bird. If you want ot try your hand at bird watching or simply enjoy the forest, there are several walks avaliable starting from
Manginangina Kauri Walk
(15 minutes) to the Waipapa Track (two days).
Kaikohe's newest icon, the largest
plough
in New Zealand is located at the eastern entrance to Kaikohe. This plough was used for creating drains across swampland. It was pulled by a large track laying vehicle similar to a WWII Bren Gun Carrier with a mounted winch. This winch carrier could work its way across the swamp, anchor itself, and then proceed to pull the plough through with a wire rope leaving behind it a deep serviceable drain.
The popular Memorial Park provide tree shaded picnic table areas and children's playgrounds for the enjoyment of families. The Kaikohe Library Square and playground houses the public toilets, painted with scenes of times gone by.
Celebrating Ngapuhitanga on Northlands Anniversary Weekend at Lindvart Park Kaikohe, the Ngapuhi Festival staged. An annual event it is a family event featuring local and international acts, food, merchandise, local crafts, organic produce, Ngapuhi stories and their histories. In mid January the Kaikohe A&P Show at the Ngawhai Showgrounds happens. It is a yearly event where farming, business and family meets, and there is entertainment for everyone.